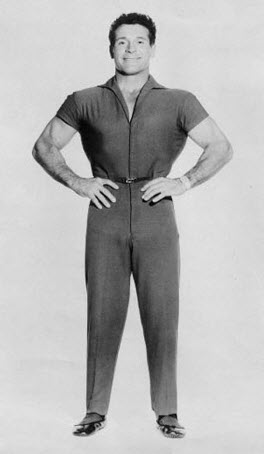 It was a sad week last week when I learnt that one of my all time health and fitness heroes, Jack Lalanne, passed away at the ripe old age of 96.Even at that age most who knew him thought it was well before his time – I was pretty sure he could live to 200!
So why was Jack so special? Here's some interesting facts:
To date, he had the longest running TV health show ever – airing from 1959 to 1985 on ABC.
1956 Age 42: Set a world record of 1,033 pushups in 23 minutes on "You Asked for It" – a TV Show with Art Baker.
1984 Age 70!: Handcuffed, shackled and fighting strong winds and currents, towed 70 boats with 70 people from the Queen's Way Bridge in the Long Beach Harbor to the Queen Mary, 1 ½ miles.
Produced some classic fitness quotes, including: "Ten seconds on the lips and a lifetime on the hips.", "Exercise is King, nutrition is Queen, put them together and you've got a kingdom"
He had a superb way of giving it to you straight, in a highly inspirational and motivational way.
Here's three of my very favourite Jack videos:
Unhappy People:http://www.youtube.com/watch?v=NEboAJf9UVc
Stop Being So Tired: http://www.youtube.com/watch?v=vBVk071N88M
Body and Mind Connection: http://www.youtube.com/watch?v=mZelaI7k7FI
What better way to sign off, then with the words that Jack would sing at the end of each of his shows:
"It's time to leave you.
Let's say goodbye.
These precious moments just seem to fly.
Now here's my wish for you.
May the good Lord bless
And keep you too."
Goodbye Jack. We will all miss your inspiration, your character and your passion.