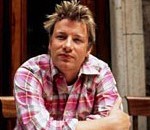 Jamie Oliver is currently in America fighting the crusade against poor eating and obesity.
In much the same way as he did in the "Jamie's School Dinners" series on Channel 4, he is visiting schools and communities and using the power of knowledge to help transform people's lives.
So profound has his impact been, that the good people at TED have awarded him the TED 2010 prize for his work.
Here is the video from Jamie's passionate lecture at TED:
"I wish for your help to create a strong, sustainable movement to educate every child about food, inspire families to cook again and empower people everywhere to fight obesity." – Jamie Oliver