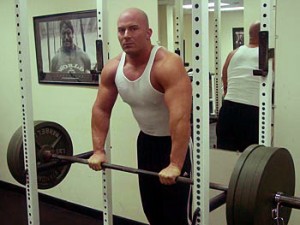 Today's post is about legendary Strength coach Joe DeFranco.
Joe is famed for his balls-to-the-wall training and for getting serious results with the athletes he works with.
Joe's training philosophy is based around the maxim "No gimmicks, just hard work"
He has successfully combined elements of power-lifting training (West-side Barbell methods), traditional strength training, functional training, agility training, corrective exercise and athletic conditioning to produce complete programs to bring out the best in those he trains.
One of the key elements to every workout is the element of competition, which helps to drive his athletes to work consistently hard in the gym.
I will be using one of his programs as the basis for my next training block, with the aim of improving strength in the key movements of the bench press, pull-up and squat. So I am looking forward to some hard work, tough workouts and great results.
You can find out more about Joe at his website: www.defrancostraining.com and at his YouTube channel: www.youtube.com/user/joedefranco
In the meantime, here is a video of some of his work: